Members of the Academic Staff
The Unit for Research and Technological Development (UIDT) of ICAT at the General Hospital of Mexico Dr. Eduardo Liceaga (HGMEL) was opened on September 20, 2013. This Unit has the objective of conducting research and developing technologies that contribute to diagnostic and therapeutic procedures as well as to health professional practice and clinical teaching related to diseases in the Mexican population. A particular interest is placed on the training of human resources in the areas of Physics and Biomedical Engineering, promoting collaboration between the Institute's academic staff and the HGMEL's medical staff. Currently, two members of the academic staff of ICAT have permanent affiliation to the HGMEL' activities and academic staff from the different academic groups at ICAT work with doctors, resident doctors, students and with the Hospital´s staff through joint projects.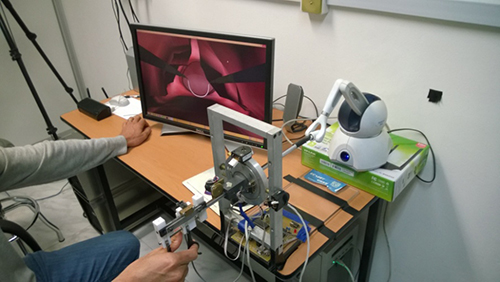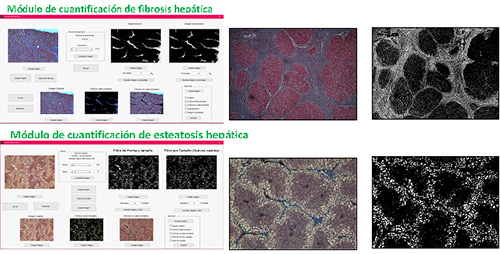 Fluorescence and absorption spectroscopy in tissue.
Medical robotics.
Biomechanics and assisted rehabilitation.
Computer-assisted surgery.
Instrumentation and analysis of biosignals.
Optical tests in biofluids for medical diagnosis.
Perception and cognition.
Biomedical imaging.
Computational modeling.
Statistics and modeling of massive databases.
Therapeutic nutrition.
S. Heredia-Pérez, K. Harada, M. Padilla-Castañeda*, M. M. Marinho, J. Márquez-Flores, M. Mitsuishi, (2018), "Virtual Reality Simulation in Robotic Neurosurgery: Evaluating Dynamic Motion Scaling in a Master-Slave System". Journal of Medical Robotics and Computer Assisted Surgery. Aug 16:e1953. DOI: 10.1002/rcs.1953.
M.A. Padilla-Castañeda*, E. Sotgiu, A. Frisoli, et al., (2018), "An Orthopaedic Robotic-Assisted Rehabilitation Method of the Forearm in Virtual Reality Physiotherapy". Journal of Healthcare Engineering, vol. 2018, p. 20. DOI:10.1155/2018/7438609.
Peláez-Ballestas, I., Granados, Y., Quintana, R., Loyola-Sánchez, A., Julián-Santiago, F., Rosillo, C., Gastelum-Strozzi, A., . . . Pons-Éstel, B. A. (2018). Epidemiology and socioeconomic impact of the rheumatic diseases on indigenous people: An invisible syndemic public health problem. Annals of the Rheumatic Diseases, DOI:10.1136/annrheumdis-2018-213625.
Ramírez-Chavarría, R.G., Sánchez-Pérez, C., Matatagui, D., Pérez-García, A., Hernández-Ruíz, J., (2018), "Ex-vivo biological tissue differentiation by the Distribution of Relaxation Times method applied to Electrical Impedance Spectroscopy", Electrochimica Acta, 276, pp. 214-222. ISSN: 00134686. DOI: 10.1016/j.electacta.2018.04.167.
R. Márquez-Islas and A. García-Valenzuela, (2018), "On the extinction coefficient of light in non-absorbing nanoparticle suspensions", Applied Optics, 57 (13), pp. 3390-3394. ISSN:1559-128X; ISSN: 2155-3165. DOI:10.1364/AO.57.003390.
Pérez-García A., Arroyo-Valerio A. G., Zaldivar-Fujigaki J. L., Bustos-Esquivel M. A., Gastelum-Strozzi  A., Padilla-Castañeda M. A., Hernández-Ruiz J. (2018). Young adult binge drinkers have immunophenotypic changes in peripheral polymorphonuclear cells and monocytes. American Journal of Drug and Alcohol Abuse, 44(3), pp. 403-412. DOI:10.1080/00952990.2017.1316985.
Carrillo-Bentacourt, R., Gutierrez-Herrera, E., Matatagui-Cruz, D., 2019, " Responsivity evaluation of a tiny CCD image sensor for tissue lesion detection in the oral cavity through UV fluorescence spectroscopy," in Design and Quality for Biomedical Technologies XII, SPIE, San Francisco CA, enero 28 – febrero 2 (aceptado).
S. Teodoro-Vite, C. Fabián Domínguez-Velasco, A.F. Hernández-Valencia, J.S. Pérez-Lomelí, and M.A. Padilla-Castañeda. Virtual Reality Applications in Neurosurgery. 5th Int. Conf. On Augmented Reality, Virtual Reality and Computer Graphics (Salento AVR 2018). Otranto (Lecce), Italy, June 24-27, 2018. (Best Poster Award, Springer-Lecture Notes in Computer Science)
S. Teodoro-Vite, C.F. Fabián Domínguez-Velasco, S. Muscatello, M.A. Padilla-Castañeda, L.T De Paolis. An Augmented Reality Platform for Preoperative Surgical Planning, 6th International Conference on Advancements of Medicine and Health Care through Technology – MediTech 2018. Cluj Napoca, Romania, October 17-20, 2018.